on
April 10, 2014
at
4:34 pm
I am personally a huge fan of "The Chronicles of Riddick" franchise, most critics do not care much for the movies and I can understand why, but there is an undeniable charm and some surprisingly subtle and interesting themes. To me its like an old science fiction show like Flash Gordon or Buck Rodgers but reborn in darkness with a heart of solid gold.
The Riddick character at the center of the franchise, played by Vin Diesel, is an animalistic being who can hardly understand the civilized world and the people in it. Although he can be considered evil I do not see him that way, I see him as a man with a sense of justice that most people cannot understand, and thus he becomes an outcast.
In the first film "Pitch Black" initially Riddick is an antagonist that is feared by the survivors of the ship crash, but slowly it is revealed that the bounty hunter that captured him has a far darker heart, and what few survivors remain, survived because of Riddicks instincts and ability to understand the inhuman creatures that hunt from the shadows of the planet.
It isnt hard to see why Vin Diesel has such passion for the character, he puts a lot of work into the character and the acting and although he isn't the best actor his passion for the work is not hard to see. Vin Diesel in interviews, and behind the scenes footage is so far removed from the character he portrayed on screen it is surreal, he is a nerdy happy human being who is filled with passion, and in my opinion that is what gives the Riddick movies their soul.
One of my favorite things about the movies is the depth of the universe, in particular the animal life that while not extremely important to the story helps contribute to the character of Riddick. Riddick seems to connect more with animals than he does with people, his sense of justice and self preservation being like that of an animals, and in a weird sense it makes Riddick seem to be more pure of a being. So here I am going to take a look at all of the animals of the Riddick franchise, big and small, and talk about their effect on the Character.
Graveyard Beasts
The "graveyard beasts" as I like to call them are the first creatures to "appear" in the Riddick franchise, they are not alive, nor do they even appear to be a singular species, their massive sun bleached bones littering the landscape of the dark planet a chilling indication of the horrors to come.
Overly not important to the plot, but it was from these noble deceased creatures that Riddick salvaged his first weapon, a shiv made from their bones. He also hid here from the other survivors of the ship wreck. To me these creatures show the resourcefulness of Riddick how even when surrounded by death he finds a way to survive, perhaps even showing that death and the fear of it does not factor into his perception of reality… like an animal.
Night Beasts
The "night beasts" or as they have been dubbed by the Riddick fans "bio raptors" are the primary obstacle to survival that the survivors face in "Pitch Black", they are ruthless unfeeling creatures that slaughter all living things, including their own kind. They see in the dark, can fly, and have razor sharp teeth and claws. They have an extreme and deadly reaction to sunlight which is why they never leave their dark subterranean caves, except during rare dark periods on the surface.
The Night Beasts seem to have a lot of parallels with Riddick, like Riddick they are unstoppable killers that can see in the dark, these parallels have a deeper meaning to me personally. Riddick has an animalistic side, but he is still "human" (more or less), he is treated like a wild animal by other people, a killer who cannot control himself, but these beasts show more of his true nature beyond the animal side.
Riddick understands them, like he understands his own animal side, and thus he is able to overcome it. He manages to face the creatures and actually slay one in combat, this is metaphorical for him overcoming his animal instincts and having control of himself. Unlike these beasts, Riddick is not a monster, and that is what his triumph over them shows.
Glow Worms
Now these little guys appear near the end of "Pitch Black" and serve little purpose except to help one of the main characters escape the cave they are in. They have survived on the planet because the prominent predator cannot tolerate any form of light, and one of the main characters uses them to her advantage to survive on the surface whilst surrounded by the beasts.
So how can I relate such an insignificant beast to Riddick? Well when surrounded by darkness, with no hope of survival, there is a tiny light which can be their salvation. These little creatures are representative of the good nature of Riddick, it is a simple goodness, small, and surrounded by darkness but it is still there despite all of the horrors around it, it endures.
Survival Creatures
Alone on the planet U.V. 6 Riddick survived for five lonely years, a cold world bathed in the ultra violet light of its sun yet thriving with life that Riddick hunted to survive. Little of this is detailed in "The Chronicles of Riddick" but the fur that Riddick wears is very real, as are the jawbones he used for his knives.
Other sources detail the creatures of the world "The Hunt for Riddick" online game, the "Escape from Butcher Bay" game, and the novelization of the film. The world is inhabited by monsters such as "Urzo Gigantus" which each fish from frozen lakes and are deadly predators providing fur for Riddick, other beasts such as the Long-horn Mammoth, Long-tooth Cat, Raptor Cats and White backed lupines providing materials for Riddicks weapons.
Survival is important to Riddick, it always has been and it always will be, to my it seems all the creatures of this world were equal and he respected them enough to use every part of their remains that he could in every way that he could. In a twisted way it could be seen as a sign of respect and admiration to the beasts on his part, which fits right in with a character who has an animal side.
Hellhounds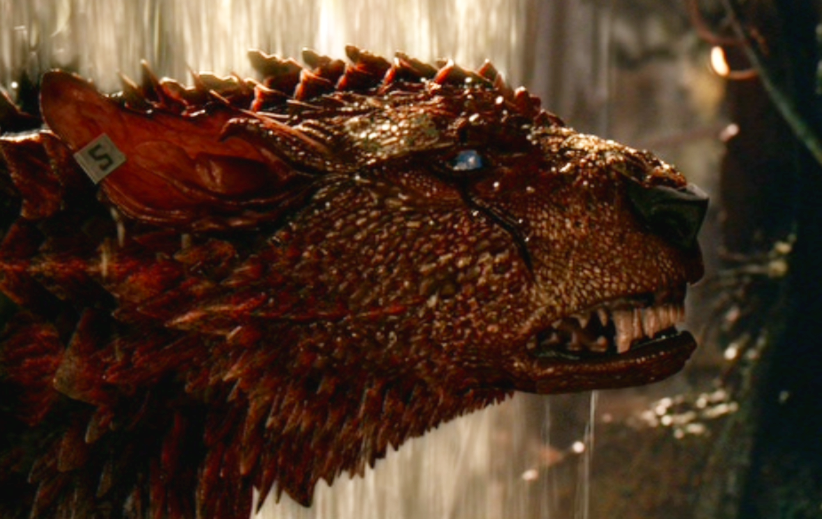 Information about the hellhounds is fairly spread out, between the film, the novelization, and the hunt for Riddick game there is a shocking amount of info on them. They are unearthly creatures bred on the world Kantor Boralis and were imported to crematoria for security purposes. Routinely they are released into the prison population of crematoria to reduce the number of prisoners, and keep the population in fear of the guards.
In the film Riddick stares down a hellhound, seemingly befriending it as if it were a simple house dog. He pets the creature and plays with it a little before it returns to its masters snapping at another prisoner who was stunned by the sight, Riddick merely remarking "its an animal thing". This goes along with Riddicks ability to connect with and understand animals, in the novelization it was revealed the creature was abused by its handlers and Riddick understood the pain it was suffering.
Originally the hellhound Riddick befriended was going to die saving him from Toombs, but the hellhound was saved when that scene was deleted, the scenes emotional weight and idea would be saved for the third Riddick film. The scenes involving Riddick with the Hellhound were indicated much earlier, in a promotional web-comic released for the first film called "Pitch Black: Slam City" where Riddick was able to calm a prison guard dog, and later the dog protected him from a guard. Its interesting to me how early these ideas formed in the minds of the creators, and that it survived all the way from the first movie to the third.
Scavengers
I didnt see much of a reason to talk about these two creatures separately, the alien vultures and eels that Riddick encounters in the third movie (simply Entitled "Riddick" but referred to by fans often as "Rule the Dark"). The alien vultures try to eat him before he kills one, and the Eels bite at his wounds while he is submerged in a sulfurous volcanic pool.
To me these creatures represent part of a larger theme in the movie, that is Riddicks life eating away at him. At this point in Riddicks journey life has abused him, and he has been tossed aside and left for dead more times than he can count. The scavengers of this world try to pick Riddick apart as if he was already dead, but he doesn't let them, his defiance towards their actions show that he is not ready to give up and stop fighting.
Alien Jackals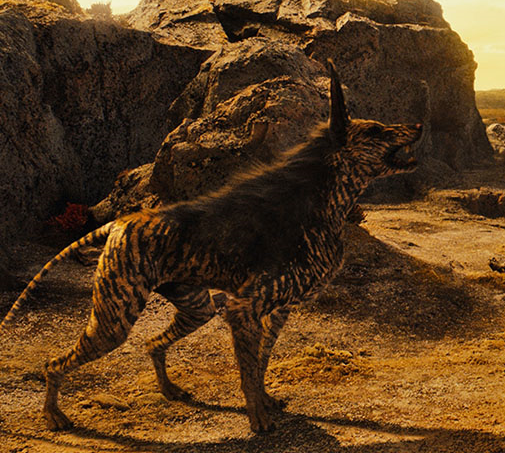 The alien jackals are one of the first threats that Riddick faces on the planet, they smell his broken and injured body and they attempt to hunt him down. There isnt much to say on the creatures themselves, but through observing them Riddick becomes aware of the sinister "Mud Demons" and even devises a way to overcome them.
Early in the film Riddicks good nature shines through and he rescues a small pup who was nearly dead, this jackal becomes his companion on this world, it protects him and accompanies him. Riddick couldn't let a small creature die, and later the poor jackal dies at the hands of a bounty hunter, Riddick is shown to be capable of love and remorse through this tragedy. All of his interactions with Jackals in the film show his ability to connect with and understand animals, and it continues that theme.
Mud Demons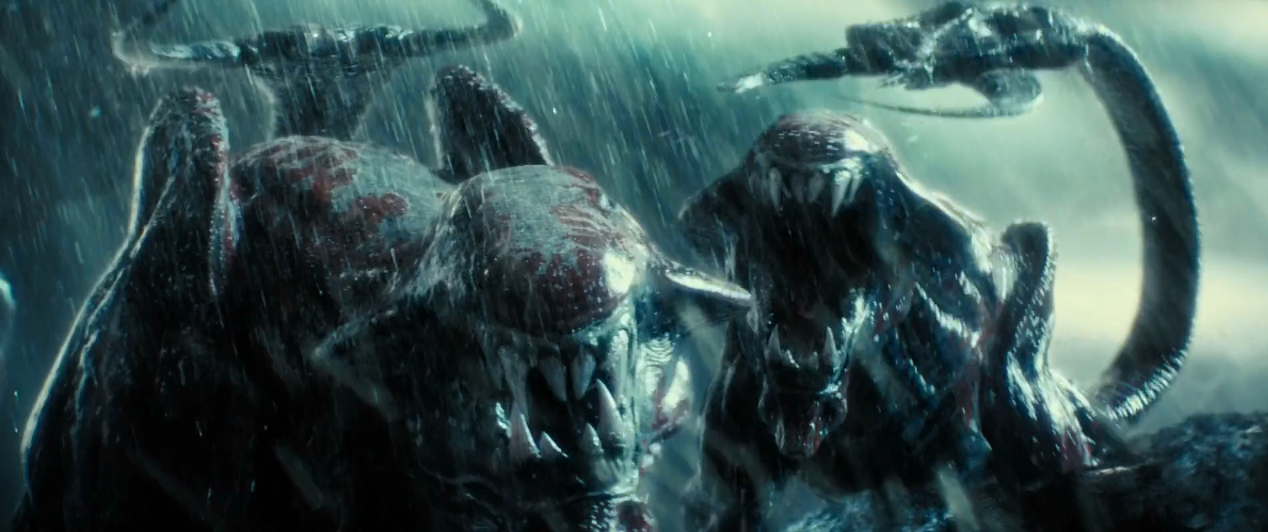 Arguably more terrifying than the night beasts, these horrific creatures live in the mud pits of the unnamed world, they are incredibly unearthly and have devastating venom. Their long tails, razor sharp teeth and claws making them formidable predators.
Riddick learns of them early, he sees their venom in action, and he does not let any fear of the beasts stop him from overcoming them and finding his way out of the desert and into more fertile lands. He injects himself with the beasts venom until he is immune, and then cuts his way through their nest into the grasslands.
When the bounty hunters arrive on the planet so does the rainy season, and the grasslands are flooded with both water and these creatures. There is an interesting symbolism with the mud demons, they thrive in water, the source of all life. Riddicks life has been eating away at him the more water there is the closer he gets to death as there are more and more of these creatures. At first he overcame the creatures, but when the Bounty Hunter "Boss Johns" seemingly betrays Riddick they get the upper hand, it seems that all is lost and that Riddick will actually die but Boss Johns and the other Bounty Hunters return to save Riddick from them.
To me this is one of the most beautiful things in the Riddick franchise, Riddicks life destroys him slowly and he is constantly tormented. The mud demons are representative of everything in Riddicks life, and the mercenaries saving Riddick shows him that he can actually trust in other living beings, and that he can continue to survive and triumph over his problems even if occasionally he needs aide from others.
That is it for the films, I may in the future make follow-up articles concerning the creatures featured solely in supplemental Riddick works such as the Games, Novelizations, and the animated short film. But for now I feel my thoughts on the live action film are sufficient.